Research resources
Research hub
Research happens throughout Virginia Commonwealth University. And faculty and student researchers turn to the Office of Research and Innovation as the hub for resources and support.
Find a mentor. Become a research assistant. Apply for grants to pursue your own research. Learn more about undergraduate research opportunities.
View a list of master's and Ph.D. programs where you can pursue your research interests and connect with faculty experts who will mentor you throughout your journey.
Pitch an idea. Develop a business plan. Apply for funding. Learn more about entrepreneurial opportunities for students.
Connect with mentors. Access guidelines. Apply for tuition assistance. Learn more about the services for postdoctoral scholars.
Write a grant. Find funding. Access policies. Learn more about the support and resources offered through sponsored programs.
Create partnerships. Find investors. License inventions. Learn more about the services and resources offered to faculty and staff through Innovation Gateway and VCU Ventures.
---
VCU Libraries can help you find answers.
VCU has two main libraries — one on each campus:
Cabell Library Health Sciences Library
Are you getting ready to collect data? Starting your thesis or dissertation? Are you in need of space? Video studio? Training? Do you have questions about publishing? Looking for archives? VCU Libraries is in the business of serving your academic and research needs. Here's just a sampling of ways the library can help.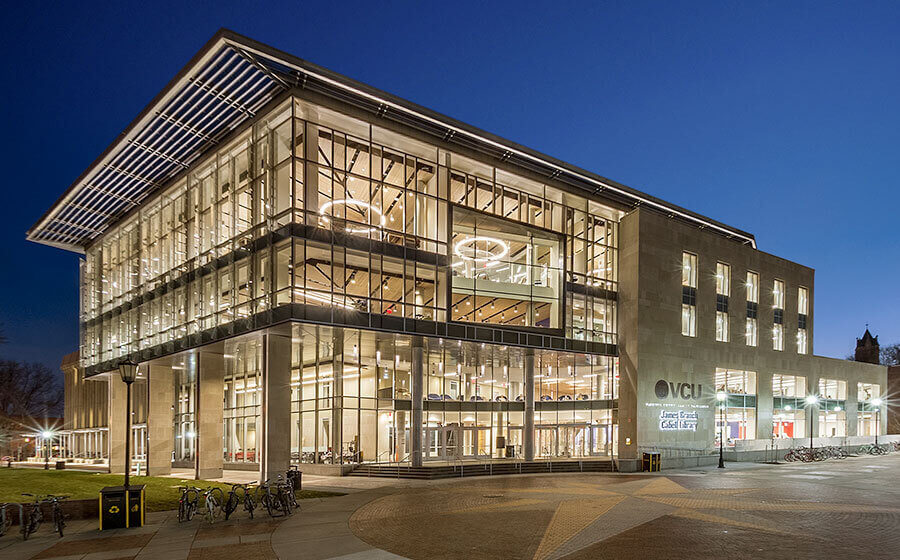 Located in Cabell Library, the Workshop offers — for free — workstations, a makerspace, audio and video studios, one-on-one tutorials, workshop-style sessions, equipment demonstrations and online resources, as well as knowledgeable staff who can help you do what you want to do.
Topics vary and are designed to help you at various stages of your academic and research career.
Reserve your room.
Find out what is available.
---
Where the research magic happens
From engineering clean rooms to observation rooms to acres of wetlands, VCU faculty and students have access to the most advanced research facilities.
---
What are centers and institutes?
VCU centers and institutes are hubs for special interests. They are where faculty experts from a variety of disciplines collaborate to solve some of the most pressing issues in very specific and complex fields. Here is a sampling:
See the full list of centers and institutes.
Looking for a job in research at VCU?
Quick Links for Researchers
37 chartered centers and institutes